What might very well have been the most diversified, if not the largest, gathering of the op den Brouw Family in recorded history took place at Het Maikenshof in Berg en Dal, outside of Nijmegen, 22-Jul-00. In attendance were 93 odB / OdB / Odb's, their spouses/companions, their children, and their grandchildren. They represented seven of the fourteen branches of the family, coming from six countries: Australia [AU], Canada [CA], Germany [DE], Great Britian [GB], the Netherlands [NL], and the United States [US].
The reunion was an outgrowth of the plan in which four odB's (Flip, Mies, Leo, and Jim) would meet in July 2000 in Nijmegen to participate in the 84th Four-Day March (Vierdaagse). Mies, Flip, and Jack took charge of the idea, and through their abundant and tireless efforts, we had a well suited gathering place with refreshments and food for all.
Printed copies of the newest edition of Genealogie Op den Brouw were available in both Dutch and English. "The Book", as it has come to be known, was the stimulus for many conversations, and many times became the "authority" for determining how two odB's who had just met for the first time were related to each other.

The Group (well, two-thirds of them anyway)

Adriaan Branch II
Ellenville Branch I

Hendrik Branch

Jacob Branch

Pieter Jan Branch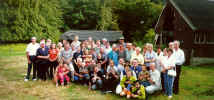 Willem Branch

Veldwachter Branch
In case you are curious about those four odB walkers, the story is at Four-Day Walk.
Genealogie Op den Brouw is now available on CD. In addition to all the files needed to print a copy of "The Book", it also contains a complete web version. Dutch and English versions in both formats are included. Watch for its arrival on the Internet at The Book.
Questions or comments can be directed to jim@opdenbrouw.nl.

[ Home ] [ Up ] [ The Book ] [ odB Reunion ] [ Four-Day March ]
Last update: 06-Aug-2004