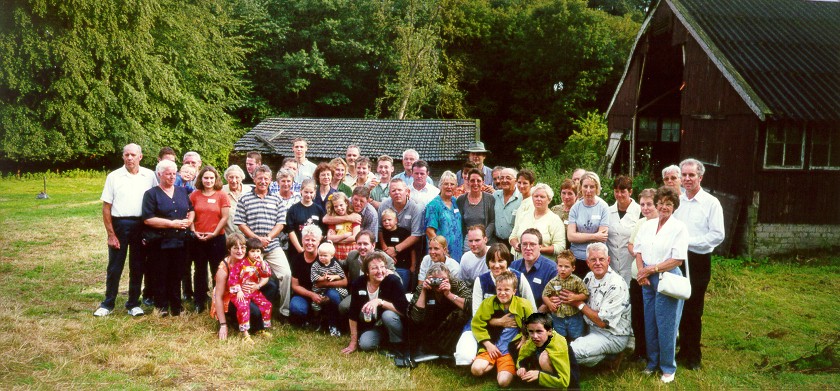 Squatting: Gerjo Man-van Hillo holding Mimi Man, Arjenne van der Maas-odB holding Marieke van der Maas, Henny de Vries, Janna de Vries-odB, Miep van Hillo-odB holding the camera, Tanja Mocking, Björn odB, Lee odB-Michell [GB] holding Jake odB [GB], Arthur odB [GB], Luke odB [GB], Bas odB, Willem odB.
Standing: Jake Hartog [CA], Jannemie Janse-Hartog [CA], Sebastian Lüttig [DE] (mostly hidden), Robin Kuhl [DE], Winni Lüttig [DE], Vanessa Kuhl [DE], Marie odB-Schouten, René van Splunder, Urbaan odB, Mien odB-de Viet, Dirk Sprangers (partial obscured), Rainier Lüttig [DE], Joni Sprangers, Annick van Hardeveld, Monique Groeneweg, Lisa odB being hold by Flip odB, Wiljan odB, Erica odB-Hoogerbrugge, Adriaan (A.J.P.) odB, Marijn van der Maas being held by Koos van der Maas, Piet Broek, Kees van Splunder, Ina Odb-Nolet [AU], Stefanie Verkerk-odB (partially hidden), Han Verkerk wearing the hat, Laura Lüttig-odB [DE], Jack odB peeking out from behind Leo Odb [AU], Mies van Splunder-odB, Stien odB-ten Holte, Yvonne Stinissen-odB, Gert Stinissen (barely visible), Lisa Bright-OdB [GB], Corrie Sprangers-odB, Elsie OdB-Maxwell [GB], Janna odB-Lindhout, Marie Broek-odB, and Wim OdB [GB].
not shown: Adriaan (A.J.) odB, Henk de Vries, Julius odB, and Rutger Verkerk
Adriaan odB can be seen in the group photo peering over the shoulder of Henk odB (blue shirt and tie).
Henk deVries can be seen in the group photo under the Heineken umbrella, wearing a blue shirt and dark sportcoat.